Himalayan Salt Therapies
We've very excited to now offer a line of Himalayan Salt treatments and products.
Himalayan Salt Stone Massage
This full body massage is designed to Our Salt Stones are mined from an ancient sea bed deep beneath the Himalayan Mountains. They contain 84 trace minerals that ground and balance the body's electromagnetic field, central nervous system and meridians. The stones are naturally anti-microbial and by their very nature generate negative ions when heated.
60 min. $140
75 min. $160
90 min. $180
120 min. $250
Gift Certificate
Himalayan Salt Scrub
Using the ionizing properties of Himalayan Salt Crystals, this body scrub is the ideal treatment for stressed, dehydrated and tired skin. A brisk lymph stimulating dry brushing followed by a scrub using organic Himalayan Salt crystals, buttery-smooth Golden Jojoba oil and essential oils of ginger, sandalwood and lemongrass leaving your skin baby soft. We highly recommend adding our Hydrotherapy Bath for greater detoxing + smoothness.
75 min. $150
Gift Certificate
Couples Himalayan Salt Massage
Experience the relaxation benefits of a full body massage enhanced with the energizing effects of our ancient Himalayan Salt Stones. The 84 minerals embedded in the stones will help reduce inflammation, increase blood flow and improve your sleep. Enjoy this unique treatment with your significant other in one of our outdoor treatment rooms.
90 min. $175
110 min. $225
Gift Certificate
Salt Inhaler
Evolution Salt's Air Inhaler is a convenient, drug-free and non-invasive device for enjoying the benefits of salt-air therapy. Simply by inhaling through the mouthpiece of your ceramic salt air inhaler the moisture in your mouth and lungs will absorb the microscopic particles of this incredibly pure, bio-energetically alive and mineral rich Himalayan Crystal Salt – there are no moving parts.
Himalayan Crystal Salt is naturally anti-bacterial, anti-fungal, anti-viral, and anti-microbial. It cleanses the entire respiratory system including your mouth, sinuses, nasal cavities, throat and lungs. The tiny particles of salt may help reduce the symptoms of the following problems:
Allergies
Cold & Flu
Sinus Conditions
Shortness of Breath
Asthma
Ask a concierge for details on this amazing product.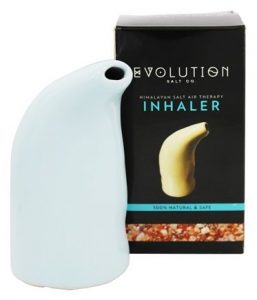 Bath Salts
Evolution Himalayan Crystal Salt is perfect for the ultimate bath experience. Since ancient times, Himalayan bath soaks have been used to purify, relax, rejuvenate, and restore one's balance. The skin is our largest organ, absorbing minerals, as well as toxins; therefore there are enormous benefits in taking Himalayan salt baths.
Moisturizes and rejuvenates skin on a cellular level, leaving your skin incredibly soft after a soak.
Gently draws toxins out of the body while 84 minerals are absorbed through the skin.
Alkalizes the body while balancing the pH of the skin.
Known for reducing inflammation of the muscles and relieving pain and soreness.
Medicinal/Therapeutic grade essential oils.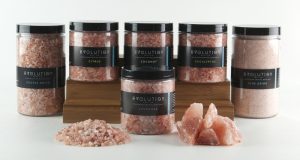 Salt Candle Holders
Himalayan Salt Candle Holders when lit and heated using a common tea light will emit negative ions that purify and clean the air. They also combat the harmful effects of positive ionization caused by electromagnetic radiation, which originates from TVs, monitors, computers, appliances, Wi-Fi, cell phones, etc.
These are the same candle holders we use in our copper tub room.